TRM Flood/Fire Restoration GoFundMe Campaign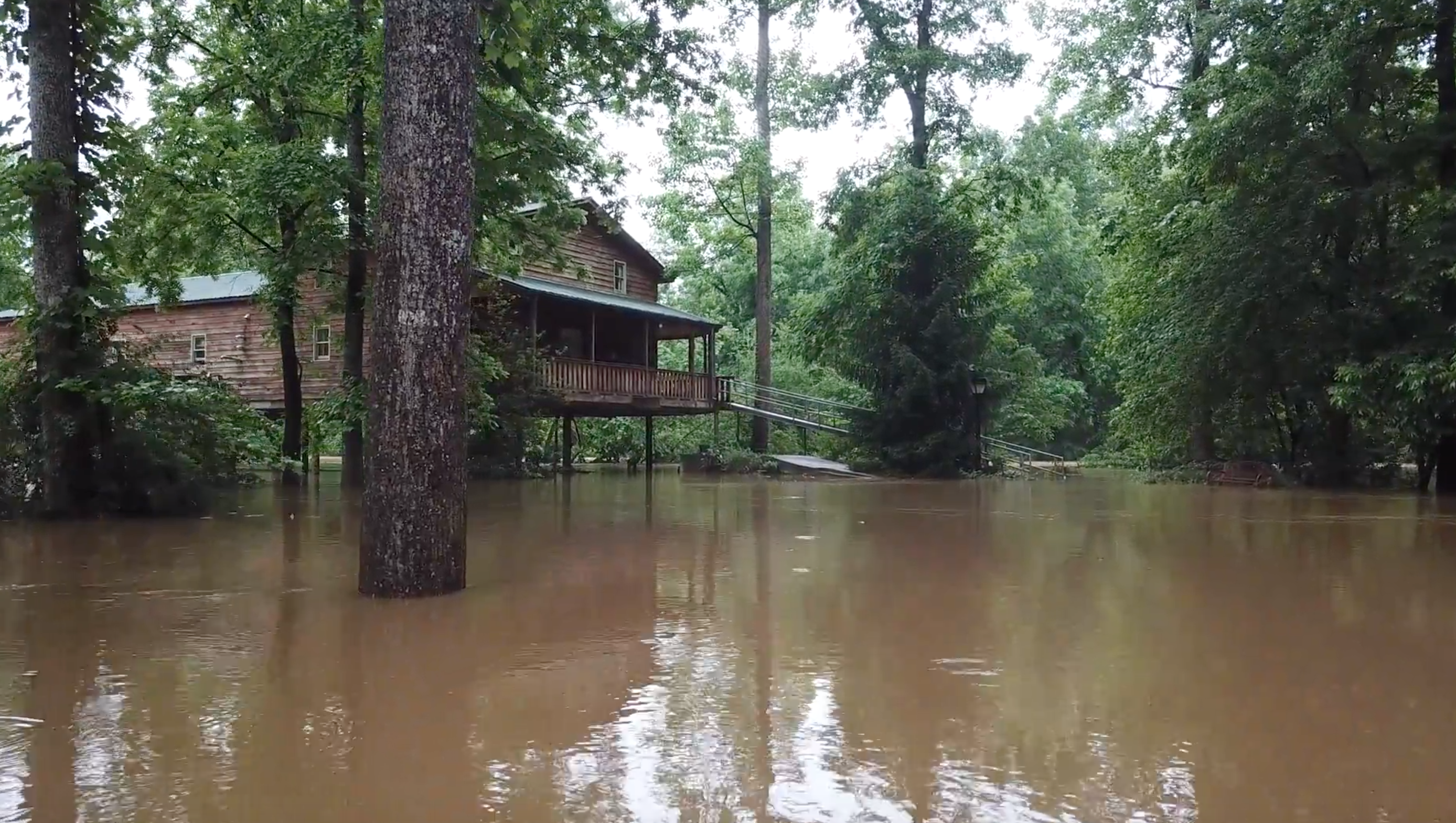 The River Ministries (TRM) property in western North Carolina is a Spiritual Retreat Center where visitors from all over the world have experienced spiritual healing, rest, and direction from God. 
TRM has touched so many lives over the years as a place where people, churches, men's and women's ministries and good friends come to seek Jesus amongst the beauty of God's creation.   A legacy of giving has sustained TRM for years and we trust this legacy to continue.  We invite you to partner with us via your generous gifts to rebuild and restore TRM!

THE PROBLEM
It has been a pretty devastating 2018 at The River Ministries.  We've had 4 major floods that brought widespread damage to the Lodge, the land surrounding it and caused a fire that destroyed our kitchen.  
1. High water levels caused an electrical short, which lead to a fire in the kitchen area. 
2. The weakened riverbank collapsed significantly over a 250 foot area by the Lodge putting the Lodge structure in danger.  
3. Our outside sheds, buildings,  equipment, picnic tables, smoker, grill etc.. and other things unable to be moved to higher ground were waterlogged and/or swept away.
In the days following the floods, damage was assessed, debris was cleared, and critical repairs were made.  Fire damage required full demolition and replacement of the kitchen.  Electrical and plumbing repairs were implemented.  Many volunteers have stepped up to help and many are ready to help as we get the funding for upcoming projects!  
WE HAVE TO BUILD A WALL & WE NEED YOUR HELP
THE ASK/SOLUTION                          
That's the simple answer.  Please help us raise between $25,000 and $35,000 so we can protect this treasured jewel that has meant so much to so many.  The Larger goal to replace all that has been lost is $45,000. The Lodge NEEDS your help to protect it from one of the things that makes it so desirable, the Green River.  
WHERE THE MONEY IS GOING
All donations are tax deductible and go to the The River Ministries/The Forge, a non-profit 501c3 that has been providing "Your Spiritual Home Away from Home" since 2007 and The Forge Men's Ministry since 2015.  We are located on the picturesque Green River in the foothills of Polk County North Carolina.
Cleanup and improvement projects to be implemented as well as a result of the widespread flood damage and fire are: 
1.  The Wall
2.  Rehabbing the Land around the Lodge
3.  Replacing Chairs, Picnic Tables, Outside Grill & Smoker Rehab, Planter Boxes 
4.  Replacing Storage Shed 
5.  Repairing Picnic Area and Rope Swings
6.  Road Damage
7.  Building a Water Diversion Berm  
OUR STORY - Read More
The River Ministries was born out of a desire to provide a retreat type setting along the pristine Green River in Polk County, NC providing a place of reflective solace amidst the beauty of nature..
In 1993, our founders, Bill and Beth Calton set upon a journey to build the retreat facility debt free so that mission and ministry could be carried out without a heavy financial burden. The Lodge facility was completed in 1999 and in 2007, The River Ministries gained 501(c) 3 status. Since that time, 10s of thousands of children, youth and adults have come through its doors and enjoyed the natural setting of the Blue Ridge Foothills.
Youth and Children's camps, Men's and Women's events, Community service organization workshops and trainings are a few of the groups we have hosted. An expansive outside area gives you access to fire pits, picnic shelter, river play, wide open areas for lawn games and activities, and hiking trails. Our facilities give you the space to meet the unique needs of your group.
We welcome the opportunity to assist you in growing closer to the Lord Jesus Christ and we hope that the TRM Lodge will become a home away from home for you and your family or group!
HOW YOU CAN HELP TODAY
1. Donate what you can, no amount too small and donations are tax deductible
2. Share on all social media - Becoming a fundraiser 
3. Email or Text our GoFundMe link and these steps to all contacts
4. Leverage any avenue you have to make this go viral (or send us leads/tips) info@theriverministries.com 
5.  Become a fundraiser
TIME IS OF THE ESSENCE
As many of you know, TRM lost a significant amount of income from the floods and especially the fire.  Many events were canceled but God has kept us afloat through a few strategic partners.  We'd love to see this goal met and exceeded by December 31, 2018.
FOLLOW THE LATEST AT
www.facebook.com/theriverministriesnc/ 
www.facebook.com/TheForgeMen/ 
Strategic Allies of The River Ministry/The Forge
New Wilderness Adventures 
Zoweh Ministries
Women at the Well
New4RMations
The Barn
The Dog House
Fellowship of the Sword
Midway Baptist Church
FBC Rock Hill
St Joseph's Farm( Jason Craig)
Hickory Grove Baptist Youth
Thrift Baptist Youth
Cornerstone Fellowship
and More! 
Visit our GoFundMe Page:  https://www.gofundme.com/trm-restoration
Would you like to give by check?  
MEMO: TRM Flood/Fire Restoration
325 Sycamore Lane
Rutherfordton NC 28139
Visit our Giving Page here on TRM
Contact us at: info@theriverministries.com
Help us have a New Beginning at The River Ministries